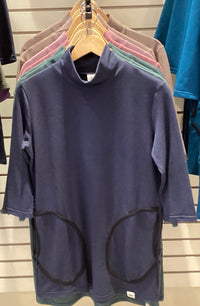 A mock turtle top with space in the neckline that is not chocking or irritating.
It is soft, breathable, comfy and stylish.
The length is long enough to wear with leggings and other fitted pants.
It has two hip pockets that is fashionable placed and highly functional.
The 3/4 sleeves made it very versatile to wear many times in and out of season.
Made with love in Calgary, Alberta.
66% bamboo rayon, 28% Cotton, 6% Spandex.